Jonathan Marcello
Newbie






Age

: 17


Reputation

: 0


Jumlah posting

: 7


Lokasi

: Reading


Subyek: Introduce Wed Dec 19, 2012 7:27 pm

---

nama: Jonathan Marcello
nick :Jonathan
Gender : Laki- laki
FB:
YM
Lokasi: Semarang Jawa Tengah
Motto: Sekarang atau tidak sama sekali

Alasan saya join forum ini karena saya ingin mencoba memecahkan kasus layaknya detektif, dan mencoba kemampuan berpikir saya, saya merasa beruntung bisa join di forum ini.

Semoga saya dapat melakukan hal yang terbaik bagi forum ini.


TxT
Agent





Age

: 20


Reputation

: 21


Jumlah posting

: 694


Lokasi

: Osaka


Subyek: Re: Introduce Thu Dec 20, 2012 8:29 am

---

welcome masbrooo

sering main yaa

_________________

"If you are not dead now, you will be dead tomorrow or the next day"




"Altought a murder is clean"
"But we can find bad smell from it If we do some effrots"
Jonathan Marcello
Newbie






Age

: 17


Reputation

: 0


Jumlah posting

: 7


Lokasi

: Reading


Subyek: Re: Introduce Thu Dec 20, 2012 4:54 pm

---

oke
Blue
Mafioso





Age

: 23


Reputation

: 7


Jumlah posting

: 1983


Lokasi

: Di kamar kost


Subyek: Re: Introduce Fri Dec 21, 2012 12:16 pm

---

Semoga betah ya
FF
Case
Solver





Age

: 24


Reputation

: 8


Jumlah posting

: 369


Lokasi

: pati


Subyek: Re: Introduce Fri Dec 21, 2012 1:01 pm

---

sering mampir k CB n pecahin kasus y,..

_________________
Asakura Yoh
Moderator




Age

: 22


Reputation

: 15


Jumlah posting

: 862


Lokasi

: depan laptop


Subyek: Re: Introduce Wed Dec 26, 2012 10:34 am

---

welcome Jonathan

yang aktif yaa sama sering mampir ke Chat Box

_________________

『空の色、雲の色、風の色。』
Sora no Iro, Kumo no Iro, Kaze no Iro
~Color of The Sky, Color of The Cloud, Color of The Wind~
-----
『青空の涙、白い雲の寂しい、無色風の悲しみ。。。』
Aozora no Namida, Shiroi Kumo no Sabishii, Mudoku Kaze no Kanashimi
~Tears of The Blue Sky, Loneliness of The White Cloud, Sorrow of The Colorless Wind~
-----
There will be a day, a day...When everything is over...
I have nothing, have nothing...Only this poor heart...
-----
The Blue Sky, The White Cloud, The Freedom Wind...
I wonder when this Heaven will be last...
-----
『この空を越えて、あの日々に帰ろう。』
Kono sora wo koete, ano hibi ni kaerou
~Across the sky, come back to that day~
-----
When human dying, it is just like petals falling in the wind, nothing more or less...
Before, now, then and forever...


ask me @087821546544
Black D' Reaper
Mafioso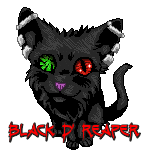 Reputation

: 23


Jumlah posting

: 1110


Subyek: Re: Introduce Sat Dec 29, 2012 6:22 am

---

salam kenal, ane apple's...

selamat datang di DAM, semoga betah disini.... yg aktif ya... and sering2 mampir ke cb.... biar kenal sama member lain.... :D

_________________
Blue
Mafioso





Age

: 23


Reputation

: 7


Jumlah posting

: 1983


Lokasi

: Di kamar kost


Subyek: Re: Introduce Thu Jan 03, 2013 7:44 am

---

Dengan saya Hexad the Koala biasa di panggil ecad atau kacad

ga tanya, ada yang bisa di bantu saya bantu

_________________

[updown]

Me is Me
Not You or They
Many people said to me
Im not a good person
But i wanna be
Make you smile
Forever
[blur]You have 2 option's
Be mine

or

Make me yours